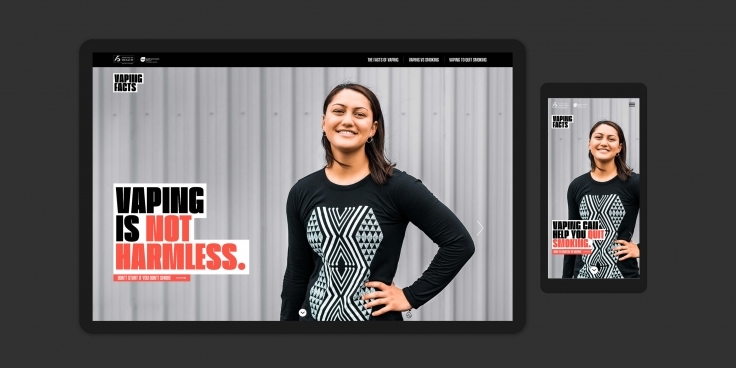 Vaping Facts
Health Promotion Agency (HPA) & Ministry of Health (MoH)
A socially responsible resource that mindfully discourages non-smokers and young people from vaping while educating smokers about the benefits of switching.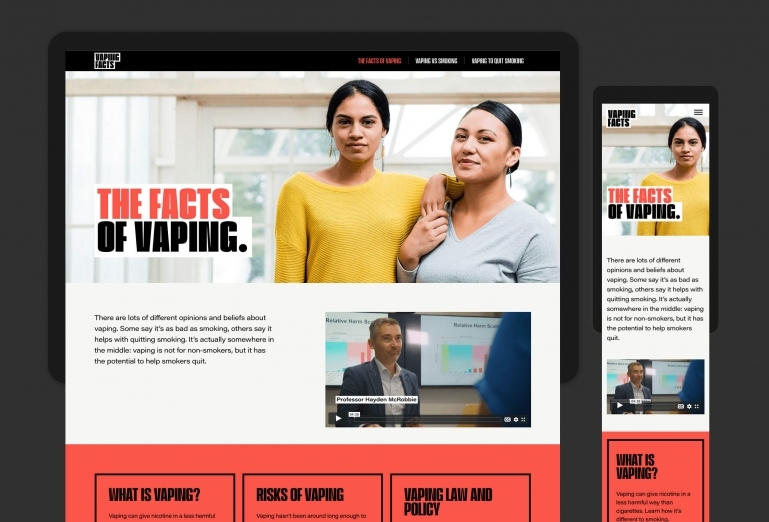 Clearing the air
Vaping is controversial. Some believe vaping is worse than smoking; some think it's completely harmless. While some city councils ban it on beaches, some businesses promote it indoors. As there are currently no fit-for-purpose laws on vaping or credible research available, the Vaping Facts website delivers clear, non-opinionated truths to allow individuals to make well-informed decisions.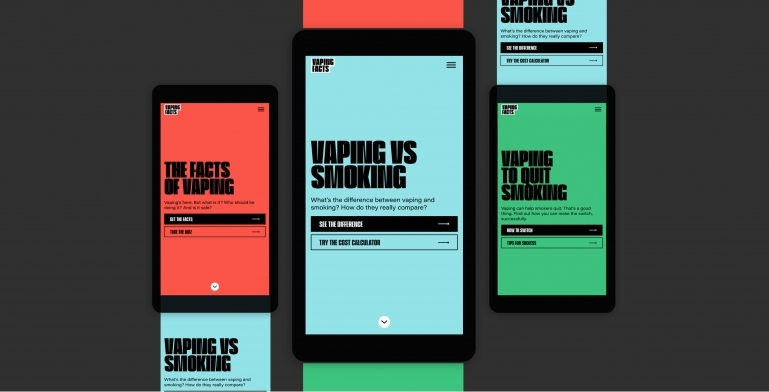 The official facts
This website communicates the government's collective, authoritative view on vaping for the New Zealand public. It provides the most trusted source of official facts about vaping in New Zealand, period.
More and more people are switching to vaping as they seek support to stop smoking. Given this, both HPA and MoH realised the need to keep the public fully informed. The facts speak for themselves: 'Vaping is not harmless, but it is less harmful than smoking', 'don't vape if you don't smoke'. These two sides of the same story became the foundational messaging of the site.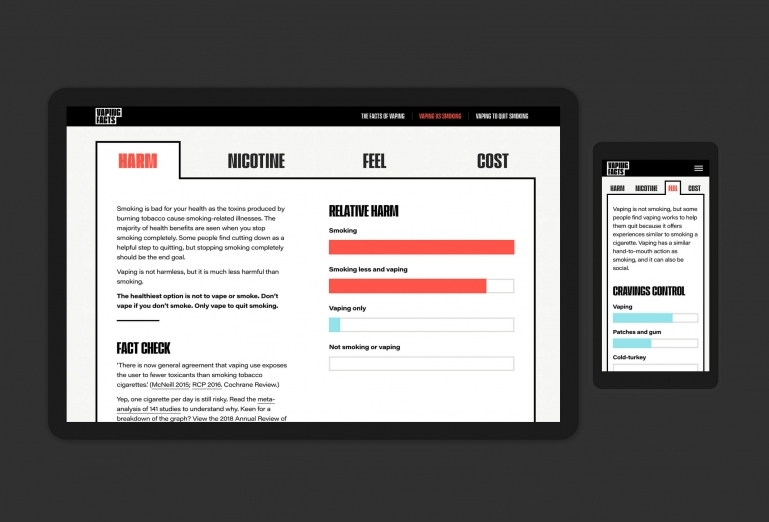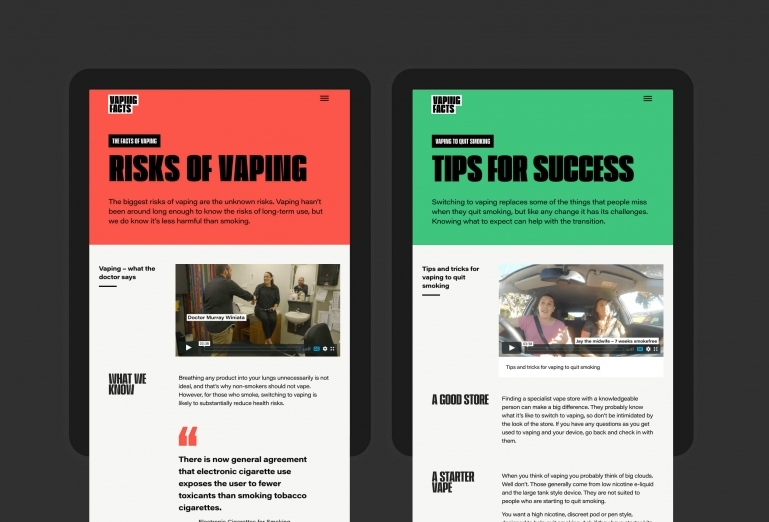 Making it relatable
Making an educated decision on vaping requires a real understanding of intricate subject matter — an amalgamation of health research and social awareness. Written by a campaign-experienced writer, Vaping Facts translates research into concise and empathetic content.
Bold, direct messages presented in digestible bites with relatable imagery create a sense of empowerment. The site is authoritative without looking governmental. The facts are easy to learn about through laid-back interview-style videos, hosted by comedian Kura Forrester and produced by Flying Saucer.
Reaching the right audience
Designed mobile-first for its primary audience (Māori women 25-45), Vaping Facts is both audience and search-friendly. Its approach is distinctively about search engine optimisation, answering the questions people might have about their health and then turning that traffic into an experience that actually helps people make life-changing decisions.
As well as cost calculation and comparison tools, the website features an interactive quiz that directly questions what the viewer feels they know about vaping, busting any misconceptions straight-up and revealing the website's core truths.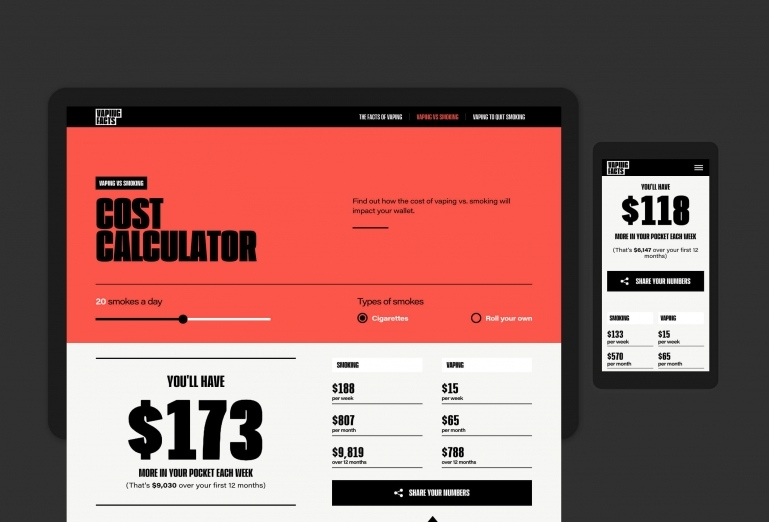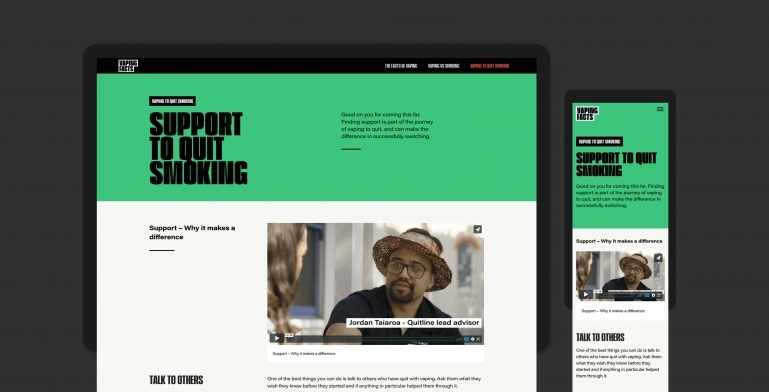 Doctor Google
We designed Vaping Facts to answer not only health questions but to leverage the common social behaviour of Googling our health concerns. Now, when a mum wants to know what to tell their curious teen or a niece is seeking advice to help their aunty quit smoking, they'll have a one-stop-shop that answers both sides of the vaping story.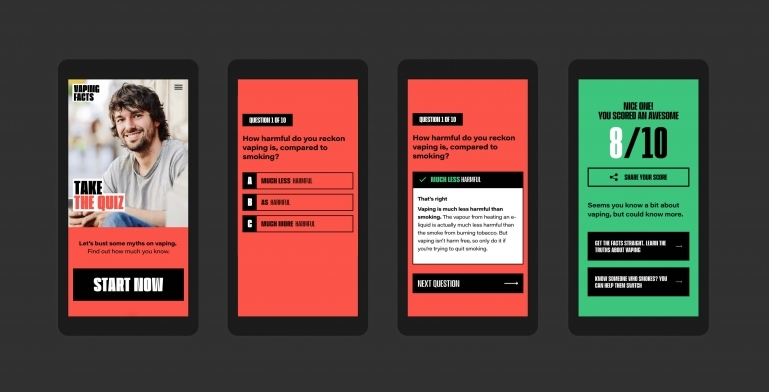 Vaping Facts is a critically important project, delivered at exactly the right time, for those who need it most.

Sue Slater, Programme Manager Tobacco Control at Health Promotion Agency/Te Hiringa Hauora