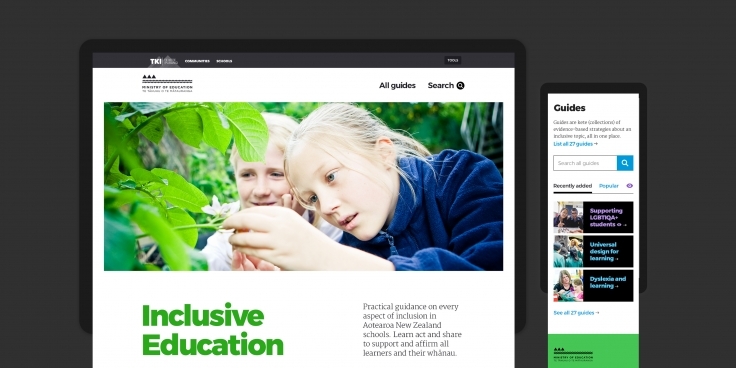 Inclusive Education
Ministry of Education
Combining best practise and hundreds of resources from around the world, this website delivers a comprehensive, elegant and accessible website. We placed teachers' needs at the centre of the design process and the result has the potential to transform the experience of all students in New Zealand schools.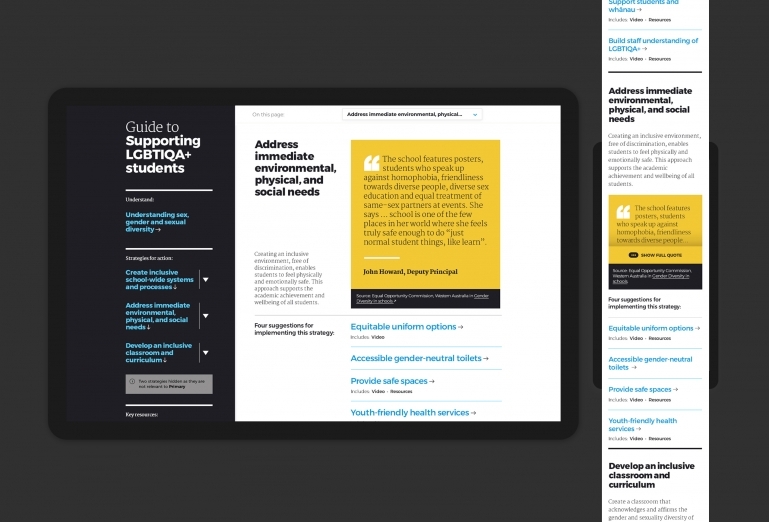 From 'special' to 'inclusive' education
The Ministry of Education's goal is to move the education system from its traditional focus on addressing individual student "special education needs" to a system that recognises that diversity is a defining feature of our society and therefore of our communities, workplaces, schools, and early learning services.
The website draws on international and local best practise to give teachers practical advice for how to harness this diversity to make sure all students are engaged and achieve through being present, participating, learning and belonging.
Accessible by design
To promote inclusivity in education we needed to show, not just tell. We needed to maximise usability and accessibility for all teachers, regardless of their specific needs.
We used rapid prototyping, inclusive design and contextual testing with teachers to make sure every element of the interface was as usable as possible. The result was an ultra high contrast interface that builds on web conventions and features a clear hierarchy.
Behind the scenes our accessibility experts made sure the site performs perfectly on all screens and — equally importantly — screen readers.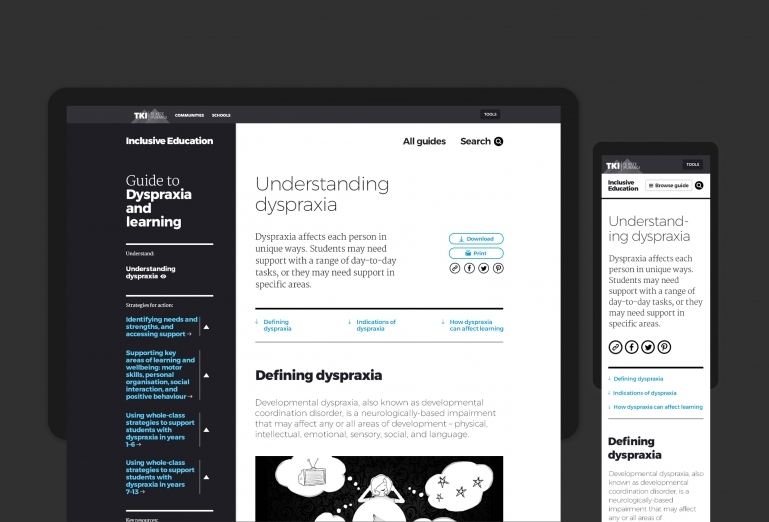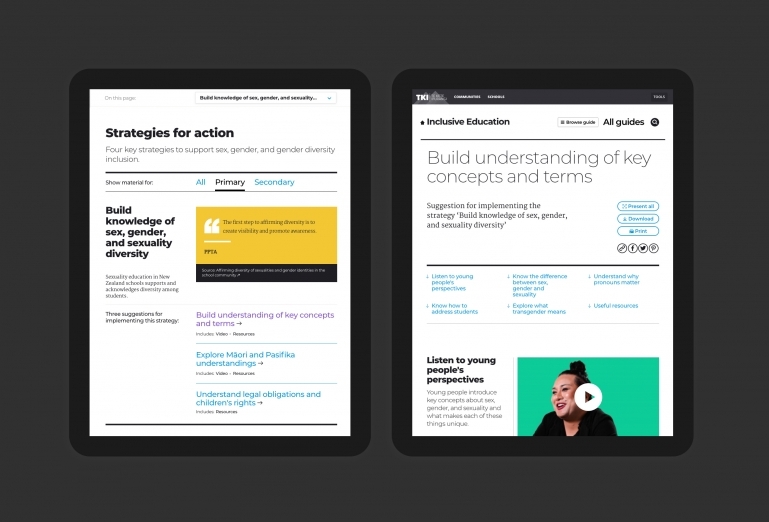 Discoverable depth
Underpinning inclusive education is an educational philosophy called Universal Design for Learning which the website models.
The content is organised into well structured and defined Guides and key concepts within each guide are presented in multiple complementary formats (video, quotations, diagrams and lists). Time-poor teachers can drill down to specific actionable advice, or use a highly customised search to get straight to the answer they need, when they need it.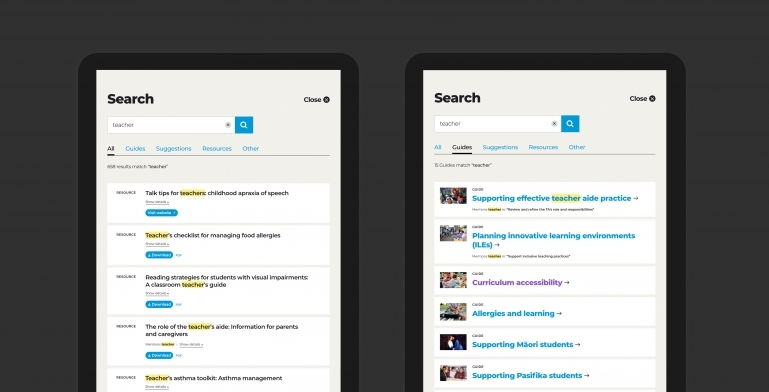 Made for staffroom sharing
Teachers share good ideas all the time in a lot of different ways — from Facebook groups and Pinterest boards to formal professional development sessions. We worked with teachers at a range of school to design the best possible sharing experience — aligned not just to how they shared, but what.
As well as the usual social buttons (backed up with carefully designed metadata) we made a great PDF download feature for offline sharing and a "Present" mode for simple sharing in person.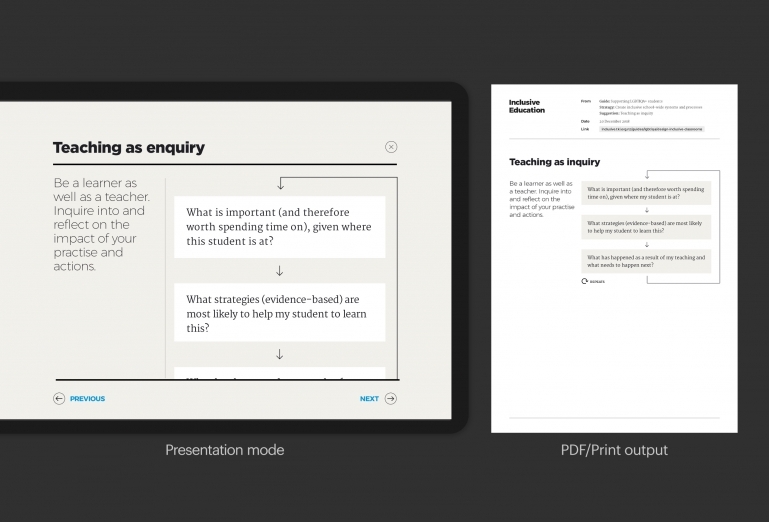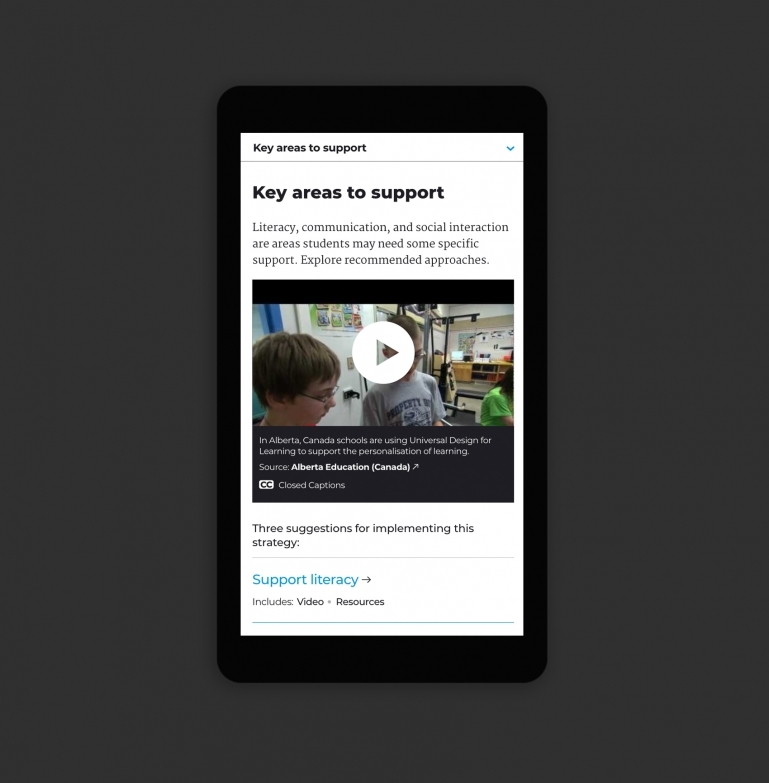 The global made local
Teachers told us that they wanted access to video, images, research and examples from around the world alongside local content, but that it needed to be readily applied in a NZ school.
We worked with the website's editors to ensure they had the necessary tools to customise content from overseas to add local context. For example, editors can specify start and end times for videos, add captions that include their origin nation and even supply an alternative poster frame.
What an amazing site. I thought I'd have 'a quick look' and I just spent an hour in your site! It's so lovely and clean - and you've thought of everything.

Teacher
2018