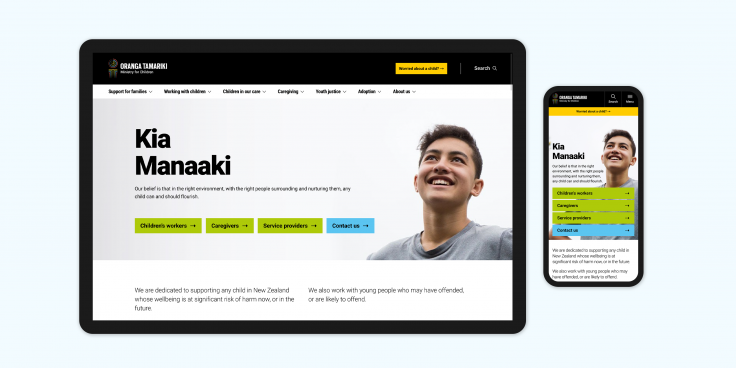 Oranga Tamariki
Oranga Tamariki, the Ministry for Children
Oranga Tamariki needed to make it easier to raise the alarm for at-risk kids and for a broad range of audiences find the information they need, online. To help achieve this, the Ministry reached out to the team at Chrometoaster. Our solution provided for their growing communication needs, met their obligations as a transparent organisation and delivered the highest standards of accessibility and usability. The resulting website — combined with a highly flexible content management system — is a place where the connection with their audience can continue to thrive.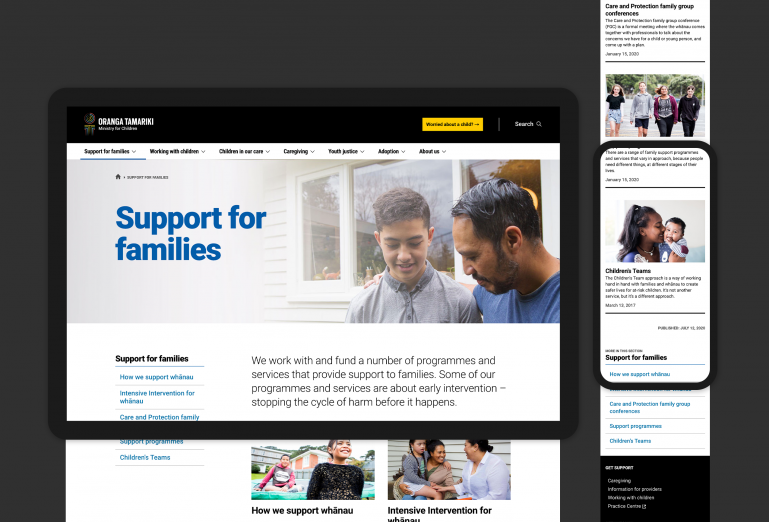 Trouble-free transformation
Oranga Tamariki was faced with a decision — whether to upgrade their existing site, and invest in improving it, or start fresh. By using the Chrometoaster Design System, Oranga Tamariki was able to do all three. We moved the existing site across to a new robust CWP 2.0 content management system that was complete with almost all the content components they needed, all ready to go. Oranga Tamariki could maximise their use of time by beginning the content loading task early in the project, while Chrometoaster created tailored content components to suit their exact needs.
A design system, ready to go
The website uses the Chrometoaster Design System, a low-risk CWP 2.0 toolkit that provides faster get-up-and-go, extensive taxonomy and search functionality, and an intuitive content management system built on Silverstripe 4.x.
We utilised the Chrometoaster Design System's extensive customisation and contemporary approach to ensure Oranga Tamariki's content needs, identity, goals and vision could be honoured and accentuated.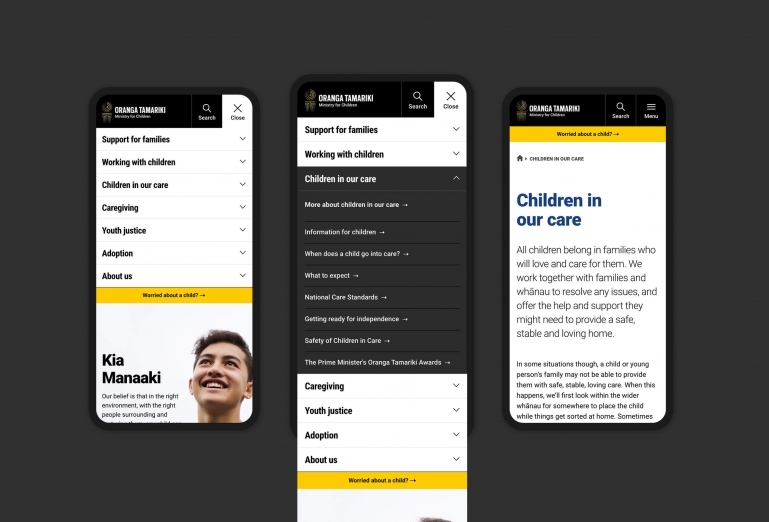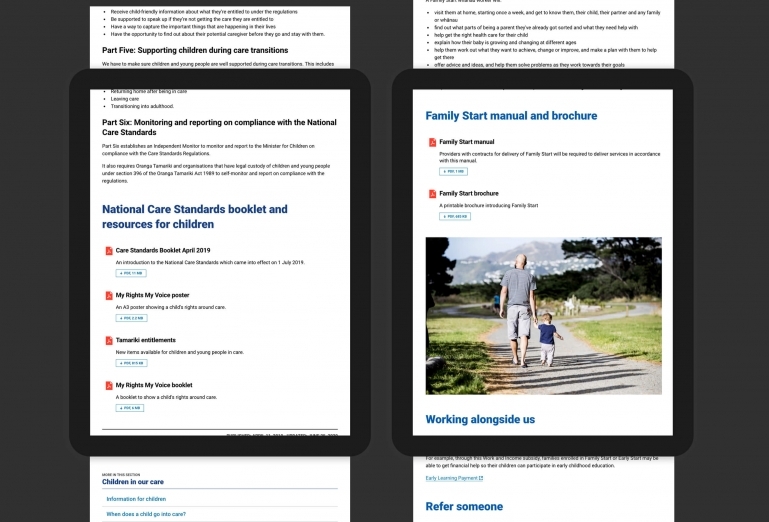 Endless control
Oranga Tamariki needed to provide collections of pages and documents throughout the site, with each list grouped based on a particular subject matter. To allow Oranga Tamariki to manage these with ease and deliver a consistent experience, Chrometoaster built an Advanced Taxonomies module that can house endless lists of terms, including hierarchical and nested taxonomies, within the CMS.
We put these taxonomies through their paces throughout the site, grouping content and documents, supporting the News feature, and surfacing reports and research. Oranga Tamariki now has the control it needs to create collections of content as required, on any page of the site. Visitors can quickly filter and navigate content using relevant terms to find the content they want.
Versatile search, flexible filtering
Making use of the Chrometoaster Design System's advanced taxonomies and Apache Solr search functionality transformed site-wide search. Documents were tagged with relevant taxonomy terms and assigned rich metadata giving them the ability to be found intuitively, by either site users or search engines. The use of Advanced List of Things (ALOT) content blocks enabled Oranga Tamariki to provide document listings, custom filtering and searching wherever they needed it — removing ongoing reliance on developers to provide custom solutions.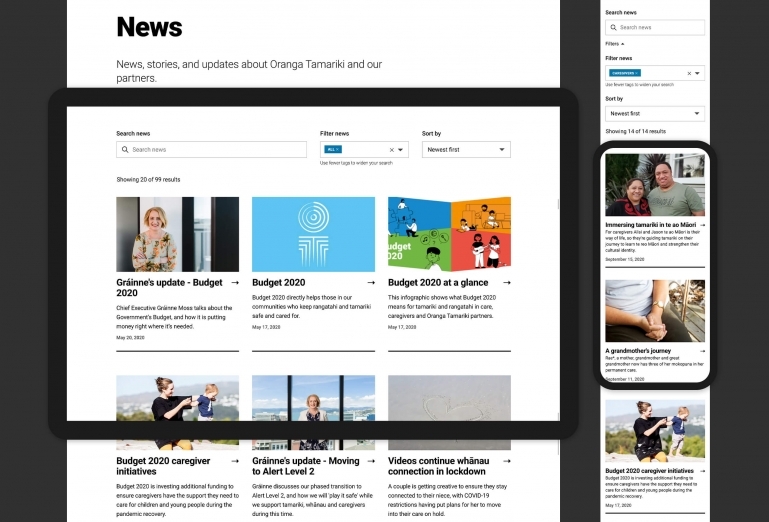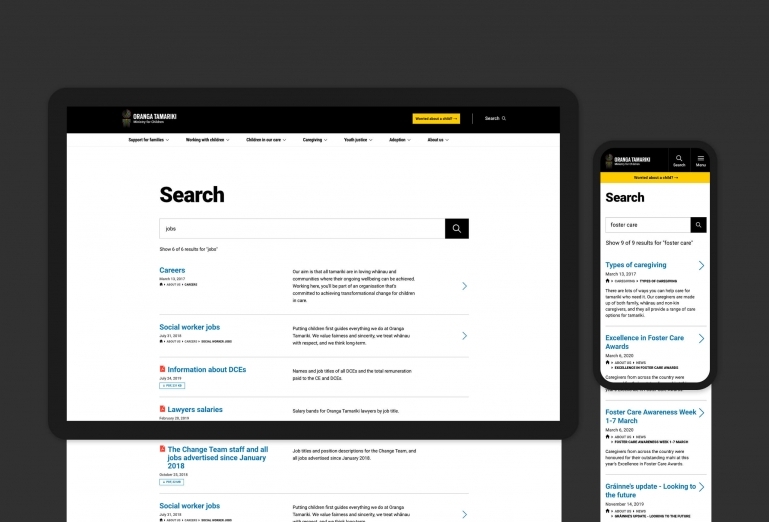 The right results, every time
Sometimes good metadata is simply not enough. Being responsive to your audience and their needs is critically important, especially when a child's wellbeing is at stake. Using Google Analytics and Search Console, the keywords visitors use on the site search and on Google are recorded anonymously — providing a wealth of information about what people need to find. We designed a 'promoted results' system so Oranga Tamariki can hand-pick top internal search results to match these popular and important keywords.
A confident connection
Taking our expertise and audience research into patterns of use, we made a series of valuable user experience enhancements. These placed important information within easy reach, coupled with clear, practical labelling.
Oranga Tamariki's audience is now able to connect intuitively to the organisation's guidance and resources. Common NZ Government user interface patterns were also established and Web Standards compliance ensured a website that's accessible by all.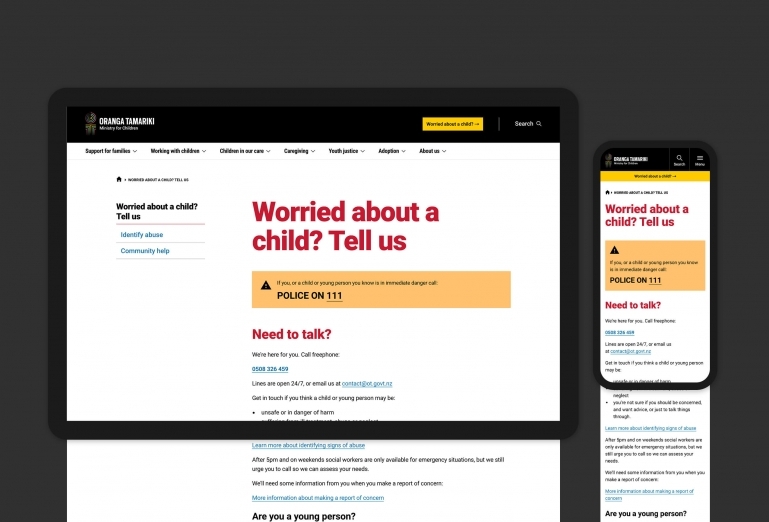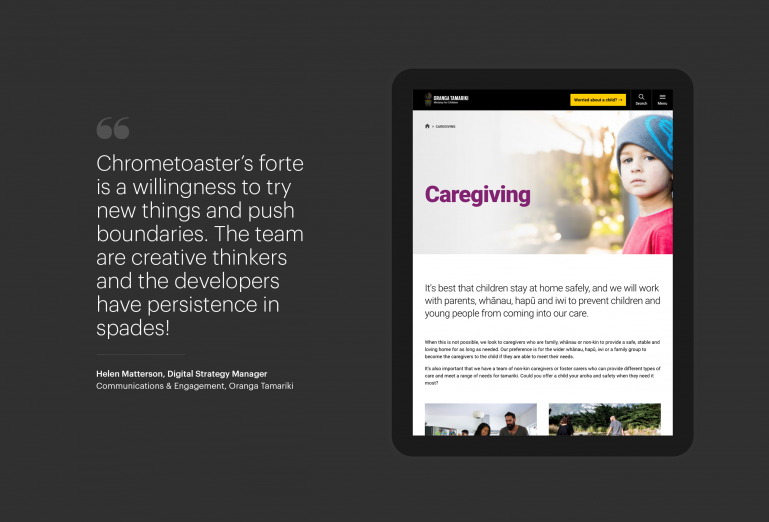 Assurance by design
Chrometoaster preserved the crucial characteristics and virtues of the organisation's visual language while making use of the road-tested sensibilities of the Chrometoaster Design System. Together this delivered a natural progression in design for Oranga Tamariki and enhanced the user experience for their audiences.